Have you ever wondered if Heaven is a real place? If so, I strongly encourage you to read this article.
My grandmother passed away on March 7, 2015. The news was not a surprise to me because she lived to be 94 years of age. Her health had been on the decline in the past couple of years so her passing was inevitable. The reason I am writing an article about my grandmother's passing is that I believe the Lord can use the story of her passing to make a positive difference in the lives of many people. The details surrounding my grandmother's passing are worth sharing, as her story is an example of how God can use a dying person to provide a testimony to the living.
My Grandmother and I
I really enjoyed my time with my grandmother when I was young. I always looked forward to visiting her and to the times when she would spend a night or a couple of days at my parents' house. She was fun to talk to and fun to play with. My grandmother was excellent with children-she was beloved by all generations including her great grandchildren.

My grandmother wasn't a perfect person (as none of us are), but she was a Christian that feared the Lord. I believe her long life was attributed to great family genetics and the fact that she feared the Lord. I believe my grandmother was an example of how fearing the Lord can result in a long lifespan for an individual:
"The fear of the LORD prolongeth days: but the years of the wicked shall be shortened." (Proverbs 10:27)
Declining Health
My grandmother was an independent and energetic person throughout my childhood and early adult life. However, a few years ago my grandmother experienced a heart attack. The strange thing about that event was that I was struggling to fall asleep the night it occurred because I was sensing someone suffering and crying for help. I learned the next morning that my grandmother had a heart attack, and I wondered whether I had actually sensed her heart attack as it happened. The doctors that worked on my grandmother's heart following the heart attack said that she would have four good years left.
My grandmother would survive longer than four years, but her health was on the decline in recent years. My grandmother's energy level declined noticeably and her mental faculties deteriorated, but she was still a loving person. In recent months I noticed a rapid decline in my grandmother's physical appearance and noticed how she struggled to remember things. I realized that my grandmother's remaining time on Earth was running out and that each time I went to see her could be the last time.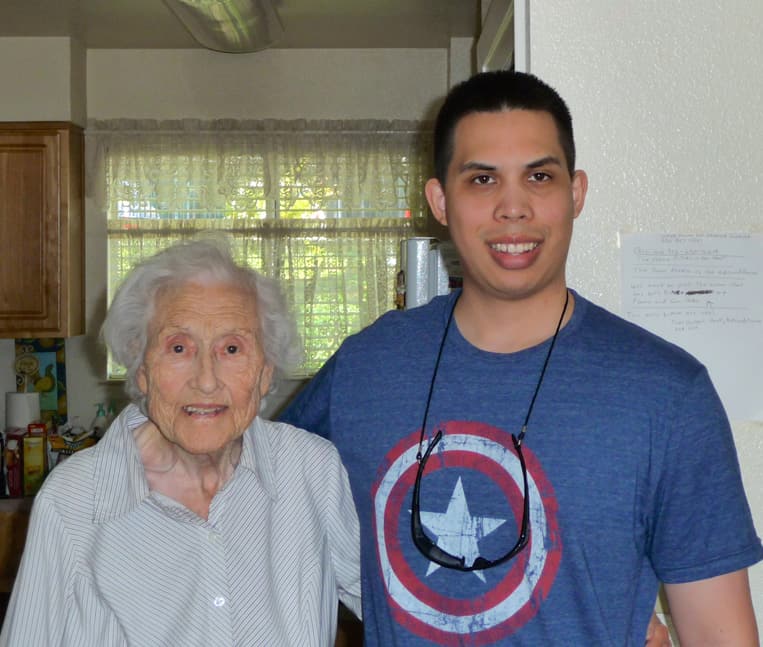 I planned to visit my grandmother on the final day of January 2015. Before the visit I was warned about how my grandmother would talk about things that were completely unrealistic and warned about how bad her dementia had become. My grandmother's short-term memory was almost gone and that she needed to be watched 24/7. One of my relatives summed up the situation by saying she wasn't the same person that we had known for so many years.
My January 31 visit to my grandmother's apartment was alarming. My grandmother returned to her apartment earlier in the week after spending time in the hospital. She returned to her apartment even though most of my family believed she should have stayed at a care facility. I saw my grandmother at her apartment sitting on a couch struggling to move and struggling to breathe (she was burning 3,000 calories a day just trying to breathe) but trying her best to interact with the people visiting her (which included me, my dad, and some of my relatives). As people talked, I quietly tried to see if I could sense what was going on with my grandmother's health as I thought I had done the night she experienced her heart attack. I quickly realized that my grandmother was very close to death-so close that I mentioned this to my relatives and told my dad later that evening that it's quite possible that she could die the next day.
My grandmother asked me shortly before I had to leave if I was helping my church. I told her that I was. In a rare moment of lucidness where it seemed like her spirit overcame her physical and mental limitations to deliver me an important message, my grandmother told me that it was good that I was helping out, that everyone should go to church, and that everyone should live right and have a clean life (I have tears running down in my face as I type this because what she told me is so true and is something she would have said to me when I was a child). Grandma was the person I knew for so many years in that brief moment in time.
I had to depart shortly after that moment. I hugged my grandmother for what would be for the last time. My grandmother had virtually no energy and struggled to breathe, but she managed to get up and to walk to the door to say goodbye to my dad and I as we headed to the parking lot. This moment is engrained in my memory because she had not stood up until that time. I was later told the basic reason why she got up to say goodbye to my dad and I was that we meant a lot to her.
I truly was pessimistic about my grandmother's chances to survive to see her next doctor appointment scheduled two days later. I really thought that I had probably seen her for the last time. Unsurprisingly, the next day I was told that my grandmother had to be rushed to the hospital. My grandmother's body was so full of fluid that she would have most likely died on her couch that same day if my aunt did not call her when she did to check on her.
My grandmother needed to have the fluids drained from her body and needed to go to a care facility permanently. However, the prospects of finding a good care facility that would accept my grandmother long-term were not good (at times it looked very bleak). Nevertheless, God provided the finances and the vacancy that my grandmother needed to be accepted. That's a story in itself of God's provision in a time of great need and very limited resources.
A Vivid Dream
I had a dream that I will never forget while my grandmother was at the hospital. I dreamt that I was alone in a room as my grandmother lay in bed. I saw my grandmother's frail face and began to stare at her as I sought to deliver a message that her spirit would understand (before that dream I believed that my grandmother's spirit had not deteriorated like her 94 year old body had deteriorated). Shortly thereafter, a young country girl appeared in the room and stood next me. I recognized this country girl as my grandmother. I looked at her, cried, shook her hand tightly, and said "goodbye" to her in this life. The dream seemed very real to me. In fact, the dream felt so real that I woke up with tears already streaming down my face and I wondered whether I had actually just said goodbye to my grandmother.
One Last Visit
My grandmother really did not want to stay at the care facility after she was released from the hospital again. She wanted to return to her apartment where she could remain independent (at least in her mind). However, my grandmother was in no condition to live alone and needed constant monitoring given her declining health and her mental condition. The reports I heard indicated that my grandmother was being treated well at the care facility and that her physical condition had improved, but her dementia caused her to forget events that took place just a few hours prior. Nevertheless, my grandmother had a dream that seemed to remain in her memory until her passing. My grandmother dreamt that a man (originally it was described to me as an angel by one of my relatives) told her that she would not experience any suffering when she dies.
My dad and I decided to visit my grandmother at the care facility on February 21. We were accompanied by a couple relatives familiar with the care and treatment my grandmother received. I saw my grandmother looking much better than when I saw her previously. She was moving well with the help of a walker and was able to converse with my dad and with others. I told my grandmother that she looked a lot better than the last time I saw her, and I believed that she would be able to live for at least a few months longer because she was receiving great care. Wow, was I wrong…
As we talked to my grandmother, someone noticed that her socks were soaked with moisture. We soon discovered that fluid was seeping out her body near her feet. My grandmother had to get immediate medical attention because something was not right about the situation. I left my grandmother for the last time as the nurses began to examine her legs and feet, but the lasting memory from that visit was how much better she looked than in the previous visit.
To Heaven
My grandmother's health deteriorated rapidly soon after I visited her. Each day my grandmother's condition seemed to get worse. Soon we learned that her kidneys were failing and there wasn't much we could do to stop the fluid buildup in her body. It was soon clear that my grandmother's death was approaching.
My grandmother's condition was really bad at the end of February. She was at the point where she could die any day. My grandmother was given morphine and antidepressants to calm her down and to help her not experience pain. However, my grandmother's physical appearance was so bad that it was heartbreaking for those who knew her to see her in the condition she was in.
I learned on Tuesday, March 3 that my grandmother's condition deteriorated further and that she was at the brink of death. I felt it would be a major surprise if my grandmother lived beyond Wednesday. I was told about another dream that my grandmother had. My grandmother apparently dreamt that she was on a bus heading to another world and she encountered the same man from the prior dream. My grandmother apparently was scared of this dream and did not want to go.
My grandmother was still alive on Thursday, March 5. I began to wonder what purpose God had in keeping my grandmother alive beyond expectations. I knew that the Book of Job indicates that God determines how long we have to live:
"(4) Who can bring a clean thing out of an unclean? not one. (5) Seeing his days are determined, the number of his months are with thee, thou hast appointed his bounds that he cannot pass;" (Job 14:4-5)
As I pondered the situation, I really started to believe that God had something in mind when it came to my grandmother's impending death that would go far beyond the impact that it would have on my family. But I didn't know what He had in mind yet.
The next day, Friday, March 6, I asked my dad if he heard an update on my grandmother's health. He said he had not heard an update yet, but he would call one of my relatives to find out the latest. My dad called at the perfect time. My dad was told that my grandmother had seen Heaven. My grandmother indicated to my relatives in another rare moment of lucidness that she saw all the members of the family who had passed away and she described Heaven as a very beautiful place. My grandmother also indicated that she wanted to go, but she didn't want to leave us behind. My dad was able to speak to my grandmother one final time, and he mentioned to her that she was definitely going to a much better place than the place she was leaving.
After the phone call I immediately thought about how the Apostle Paul indicated that he had seen third heaven and characterized the place as "paradise".
"(2) I knew a man in Christ above fourteen years ago, (whether in the body, I cannot tell; or whether out of the body, I cannot tell: God knoweth;) such an one caught up to the third heaven. (3) And I knew such a man, (whether in the body, or out of the body, I cannot tell: God knoweth;) (4) How that he was caught up into paradise, and heard unspeakable words, which it is not lawful for a man to utter." (2 Corinthians 12:2-4)
I also thought about the radical change in my grandmother's attitude towards death. My grandmother earlier in the week was afraid of dying after her dream about being taken to a different world. However, she now wanted to leave this life to join her loved ones at this very beautiful place she saw. I finally realized why God did not take my grandmother's life earlier in the week. God wanted to use my grandmother to let people know that Heaven is a real place. I also realized that my grandmother would pass away no later than Saturday because her last task on Earth was finally complete. In fact, I mentioned to a group of people at my church later that evening that I believed my grandmother would pass away either that night or sometime Saturday.
The Lord allowed my grandmother to have several more hours of life so that she could have the opportunity to say goodbye to people in my family. My grandmother passed away in the early afternoon on Saturday, March 7. I was told that my grandmother passed away very peacefully and did not suffer as the individual in my grandmother's dream promised her.
I did not cry when I heard the news of my grandmother's passing and I honestly was not upset. I was actually quite calm to the point where you would have no idea that someone important in my family had just died unless I told you. The main reason why I was calm given the circumstances is that I know my grandmother went to Heaven and I know that I will be reunited with her someday. In addition, the Lord prepared me for the news of her passing when my Bible reading for Saturday, March 7 (which was generated at random by a Bible app) included 2 Corinthians 5, which discusses death and the resurrected body. Finally, I had my dream that seemed so real to me that I felt like I had already said goodbye before I saw my grandmother for the last time.
What about you? Do you know for sure that you will go to Heaven when you die? If you answer "yes", why do you believe that you will go to Heaven when you die? Did you answer, "I have done a lot of good things" or "I'm a good person"? I'm sorry to disappoint you but doing a lot of good things and being a good person does not entitle you to a spot in Heaven. If you want to learn how you can really know for sure that you will go to Heaven when you die please check out my "Are You Going to Heaven?" page.